Periodontal disease is an epidemic that could lead to other epidemics.
Periodontal disease is an epidemic in the US, affecting half of all adults over the age of 30. And now, many studies are seeing a connection between oral health, and gum disease in particular, with other serious systemic diseases including:
Coronary artery disease
Stroke
Alzeheimer's disease
Premature, low birth weight babies
Poorly controlled diabetes
Respiratory problems
Rheumatoid arthritis
Osteoporosis
Cancer
Asthma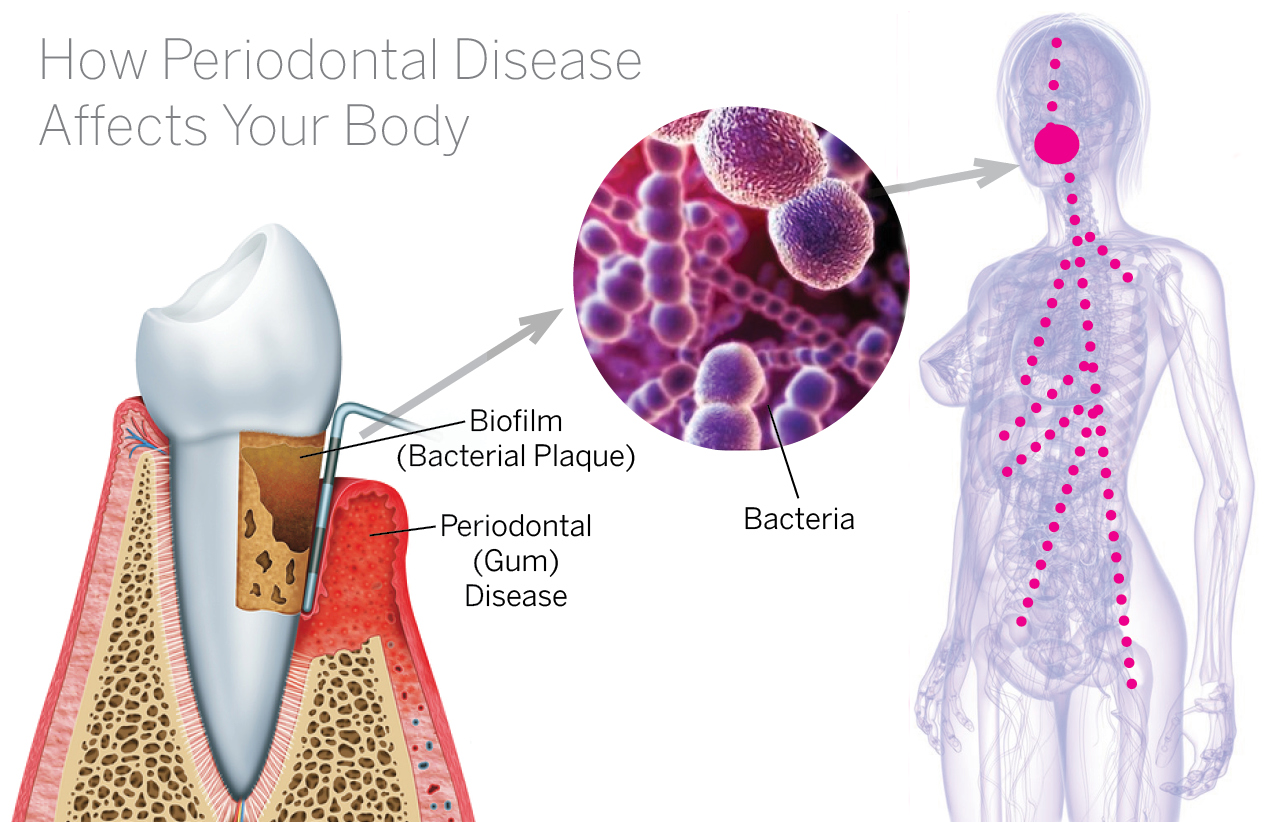 BIOFILM BACTERIA SPREAD
Emerging evidence shows a relationship between periodontal disease, cardiovascular disease and other chronic diseases – the common link is inflammation from bacteria that travel through blood vessels.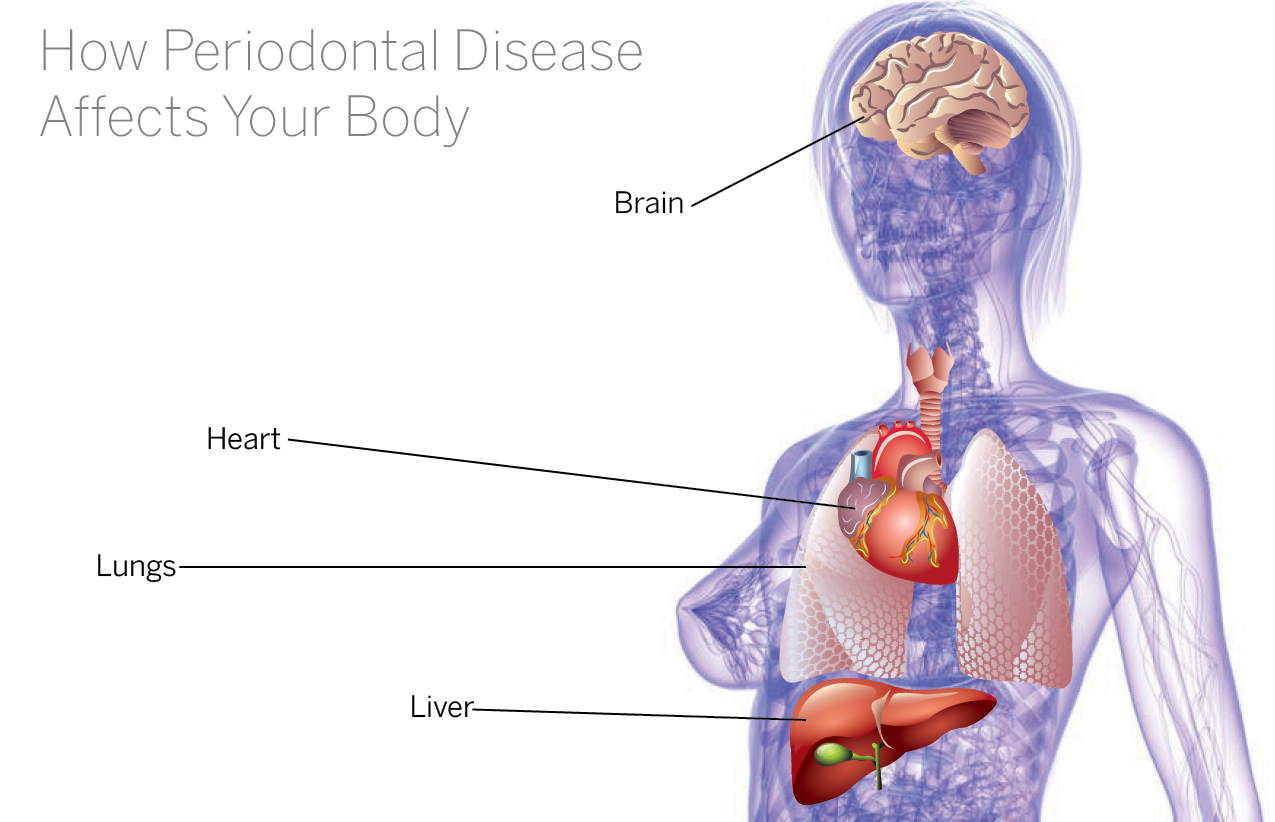 SYSTEMIC INFLAMMATION
The presence of systemic inflammation from periodontal diseases may be associated with heart attacks, strokes and diabetes.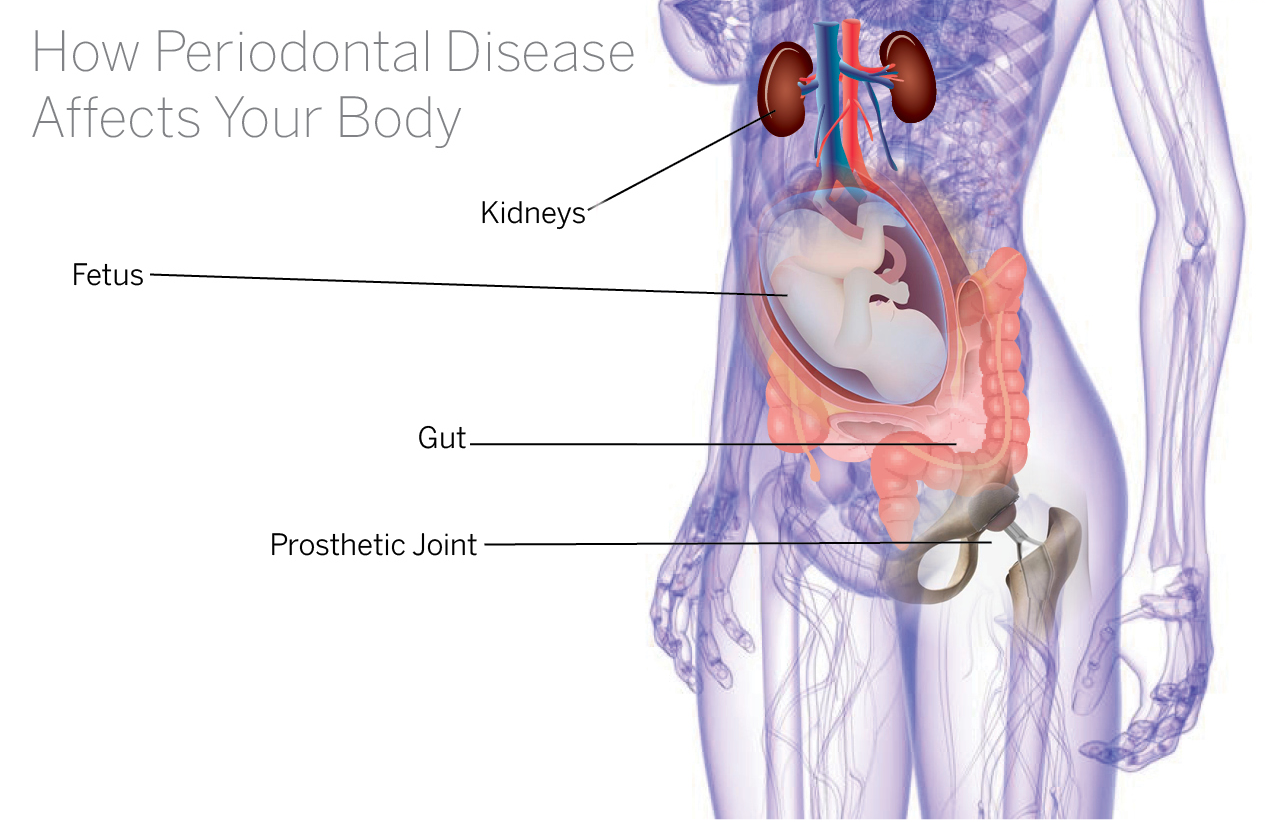 MORE COMPLICATIONS
Periodontal disease may also be associated kidney disease, preterm births and even prosthetic joint complications.
Why? The reason isn't 100% clear. Theories have centered on bacteria migrating into the bloodstream through infected gum tissue and spreading to other parts of the body. For example, oral bacteria have been found in plaques (not related to the plaque on teeth) inside arteries.
Another possible culprit is inflammation itself. As the oral bacteria migrate they cause inflammation in other parts of the body—just like they do in your gums. Inflammation, caused by infection and/or the body's immune response, has been implicated in a number of diseases including heart disease, arthritis, and certain cancers.
Although there is certainly a connection, it hasn't been determined whether periodontal disease directly causes heart attacks, strokes or any other systemic problems. It's also too early to say whether or not preventing gum disease would also prevent these systemic problems. But the correlation might be useful in identifying diseases earlier.
If you would like to know more about the systemic complications of periodontal disease call 248.901.000 or visit our contact page. Dr. Sayed, who has extensively studied the correlation between inflammation and periodontitis, would be happy to answer questions or address concerns.