7 New Year's Resolutions For Oral Health Success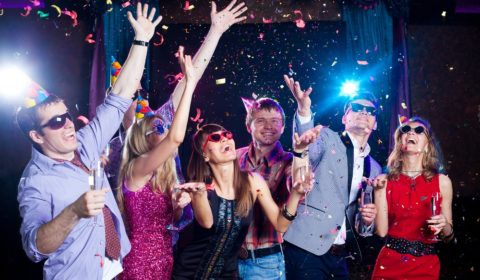 Here at Pristine Periodontics and Implants, our number one goal is to help Birmingham area patients overcome issues with their oral health. Better yet, we want these patients to have the information and treatments they need to avoid developing these issues in the first place. The New Year is a time of resolutions, and what better resolution could you make than that of keeping your smile safe and healthy going into 2017?
7 Resolutions To Keep You Smiling Into The New Year
Despite New Year's resolutions being more of a fad for most people, there are still a good number of people who take them seriously. These people work hard at making sure that their resolutions are successful. We've found that the best way to stick to a resolution is to make ones that are easy to work into your life. Provided below are ten oral health-related resolutions that are easy to fit into even the busiest patient's life.
1. Brush Your Teeth For Two Minutes Twice A Day
It is shocking to know that many people only brush their teeth once a day, usually at night. This is outside of the recommended twice a day–once in the morning and once at night. Even so, these people who do brush twice a day often aren't brushing correctly or for the right amount of time.
According to the American Dental Association (ADA), people should be brushing their teeth for at least two minutes any time they brush for proper oral care. On average, a typical American will only brush their teeth for 1 minute and 52 seconds.
Simply brushing for the right amount of time isn't enough. You must also be sure to brush properly during that time. This means avoiding aggressive brushing, which can damage your enamel and gums. Instead, you should brush gently, using circular motions that are better able to reach the less visible parts of your teeth.
2. Remember To Brush Your Tongue As Well
Not many people are aware, but the majority of the bacteria in your mouth sits on your tongue, making it the leading contributor of bad breath. Fortunately, you can brush your tongue just as you would your teeth, clearing away this bacteria and chasing away bad breath.
The best time to brush your tongue is when you're brushing your teeth. You can use your toothbrush or you can purchase a special brush or scraper instead. Some toothbrushes even come with an attached tool meant for use on your tongue.
When brushing your tongue, start at the back and gently move the brush forward to the front of your mouth. Also take the time to brush your tongue side-to-side. When done, rinse with water.
3. Avoid Hard Bristled Toothbrushes
Some patients use toothbrushes with hard bristles, thinking that they will be better at removing plaque and bacteria from their teeth. This isn't true, and using these brushes can actually erode your enamel and gums. When you brush, you are trying to eliminate tooth decay, not give it a better chance of infecting your mouth. So instead, use a soft bristled brush for your everyday oral hygiene routine.
4. Don't Brush Your Teeth Immediately After Consuming Acidic Foods
Whenever possible, you should try and brush your teeth immediately after eating. This can help rid your teeth of dangerous, enamel-eating bacteria that can attack your teeth the minute you finish eating.
However, there is one exception to this rule. You should hold off on brushing immediately after you eat foods that are acidic, such as oranges or popular citrus juices. These substances weaken the enamel of your teeth for a short period following your meal. Brushing during this period can actually hurt your teeth, so you'll want to wait at least 30 minutes after your meal before brushing.
5. Floss Daily In Addition To Regular Brushing
Flossing is the most neglected technique for securing oral health. This is unfortunate as it is one of the most important and effective tools in your arsenal. It is not optional, like many people think.
This practice is important because it can remove bacteria and food particles that get caught between your teeth and gums, areas that are unreachable with a toothbrush.
When you floss, be sure to go along the sides of your teeth, moving the floss back and forth as you move to remove pieces of food that may be caught there.
6. Don't Overindulge In Sugary And Starchy Foods
Foods that are high in sugars and starches are very bad for your teeth. When you eat these kinds of foods, the sugar and starch ends up plastered to your teeth. Bacteria then uses these substances as fuel to create the acids that cause tooth decay.
Candy, Cookies, and soda, even fruit juices can contribute to tooth decay. Rest assured that you will not need to completely remove these things from your life. You will simply want to practice moderation, banishing these foods to the occasional treats category instead of making them daily indulgences.
7. Drink Plenty Of Water Everyday
One of the best things you can do for your teeth, according to the American Dental Association, is to sip water on and off throughout the day. By drinking water regularly, you can wash away a lot of the bacteria stuck to your teeth. This will also increase the amount of saliva in your mouth, which works to defend your mouth against dangerous bacteria.
If you are curious as to how much water you should try and drink throughout the day, take your weight in pounds and then divide that number by two. The number you get is a rough estimate of how much water in ounces you should drink per day. For example, if you weigh 180 pounds, then you should be drinking 90 ounces of water per day.
Don't Let Your Oral Health Falter In The New Year
By making the simple resolutions above this coming New Year, you can rest assured that 2017 will be one of happy, healthy smiles. To all our patients, Dr. Sayed and all of the staff here at Pristine Periodontics and Implants wish you a Happy New Year.