What to expect during the implant process.*
Replacing a single missing tooth with a dental implant typically requires four or five appointments over a period of four to six months.
Consultation appointment:
This is where it all begins. With a comprehensive consultation and examination. We will discuss the entire procedure with you and answer any questions you have, including the expected timetable for surgeries and the cost of the procedures. We'll take diagnostic X-rays and provide you with an individualized treatment plan.
First surgical appointment: Implant Placement
This is when we will "place" your titanium implant. Most patients prefer to be under local anesthetic during this procedure but various levels of sedation are available within our office. If you elect IV sedation, you'll be well cared for by an anesthesiologist so your surgeon can devote 100% of his or her time to your surgery. Afterward, we review post-operative instructions with you, including pain management. You may have some discomfort for three to five days after surgery, but most patients find it easily manageable with over-the-counter analgesics.
Second surgical appointment: Placement of healing abutment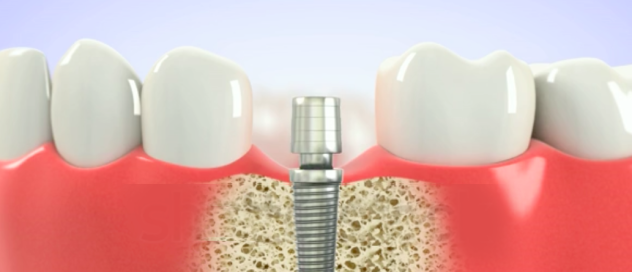 This procedure takes about 30 minutes. We make a small incision to expose the top of your implant for the placement of a healing abutment. The abutment allows the gums heal and expand in preparation for your new crown. More often than not, your bone quality will be good enough that stage II surgery can be avoided, and the healing abutment will be placed immediately following implant surgery. However, we'll test your implant to make sure it has fully fused with the bone. This is the "gold star" that lets us know it's time to place your new porcelain crown.
Impressions
After your implant and the surrounding gums have fully healed within your jawbone (typically two to three weeks after the healing abutment is placed), impressions are taken of your implant and the surrounding gums. This is the first step toward making your new crown, which will be matched cosmetically to your existing teeth.
Delivery of Implant-Supported Crown
Once your crown has been completed, it will be attached using a small screw or dental cement. . With your crown now in place, you're able to function as if you have your natural tooth! Click here to learn more.
*Larger cases with multiple missing teeth may require more appointments.
Learn more: